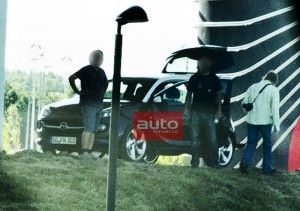 AutoForum network edition published a spy photo of a subcompact hatchback Opel Adam captured in Spain during filming for advertising brochure. The global premiere of the model will take place in the autumn on Motor Show in Paris.
Judging by the pictures, for the novelty it will be possible to order racks painted in color, differing from the body shade (a similar option is available for a small hatchback Audi A1). The model will receive three options for designing exterior – Jam, Glam and Slam, which in "Opel" are called "moods". They do not replace traditional configurations, but only represent a set of accessories changing the appearance of the machine. Earlier, representatives of the company stated that Adam in style will be able to compete with cars FIAT 500, Citroen DS3 and MINI.
According to preliminary data, Opel Adam will be built on the shortened "Corsa" platform of the next generation. Hatchback will be about 15 centimeters longer than CD-Kara VW UP! – His overall model will be 3.7 meters. The model will receive a wide range of three- and four-cylinder engines. One of them will become a liter gasoline engine with direct fuel injection, spending about 3.5 liters of fuel per hundred kilometers of the way.
European sales "Adam" should begin next year.